A Fragrant Stone in Morotai Island, Batu Kopi - Indonesia
---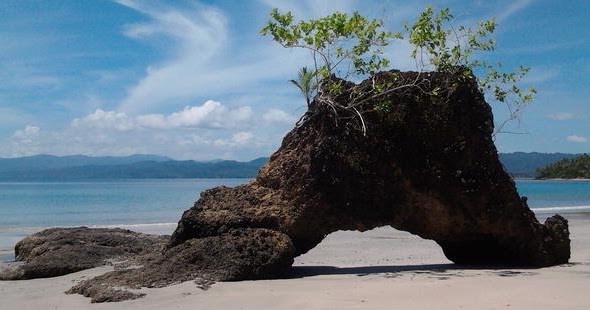 A small island like Morotai conceals numerous tourist vacations. For example, there is Batu Kopi. This name is not quite familiar but it has been one of the hidden gems of Morotai Island, Indonesia. The stone is situated near to Posiposi-Rao coast. It is in the west part of the island. Batu Kopi is not a regular stone. It has a unique fragrant, which is similar to coffee. The thing is there are no coffee plantations nearby. Where does the fragrance come from? It remains a mystery. No one knows the secret behind this uniqueness.
Getting Near to Batu Kopi
Batu means "stone" and Kopi means "coffee". Batu Kopi comes from Indonesian words. It is a unique stone, which produces coffee fragrant. Local people consider it as a sacred stone. There is a hidden mystery about it. At a particular time, the stone spreads fresh coffee aroma. Visitors can smell it within a span of 10 meters. This makes Batu Kopi popular. More people come to smell this blessed aroma. In fact, some foreign tourists come to PosiPosi-Rao gradually. It is because they are attracted to the stone.
As mentioned earlier, no one knows where the fragrance comes from. Naturally, there should be a coffee plantation. The thing is it is not. Batu Kopi is actually a coral reef. How come? Coral reef shouldn't be producing such fragrance. That is why. It remains a mystery. The stone spreads coffee aroma both in the morning and afternoon. It is at 8 a.m. – 10 a.m. Visitors can also smell it at 3 p.m – 5 p.m. However, there is no reassurance. Local people would recommend a solemn and peaceful condition. It is one of the requirements.
It is also said that a group of people has a less chance to experience such thing. That means the fragrance of the stone isn't likely for everyone. Most of the visitors are local people. Though, some foreign tourists also often come here. One thing, there are no formidable tourist facilities. Tourists shouldn't expect a comfortable vacation due to the lack of hotels and amenities. It is a little bit difficult to get foods and drinks. It is better to prepare everything beforehand. No worries. Batu Kopi is also suitable for trekking, taking pictures, and water sports. It is quite fun and challenging.
Things to Consider when Visiting Batu Kopi
There's a chance to smell the fresh fragrance of Batu Kopi. Still, there's also a chance of disappointment. Visitors should follow local instructions. At least, they need to come at the appointed time. It increases the chance of success. Also, they must keep peaceful and quite. A solemn atmosphere makes it possible. No one can tell why. Since there are no ample tourists facilities, visitors should have prepared some foods, water, and other necessities. There are some local guides. Tourists can hire them, as well.
How to Get There
Batu Kopi is located in Posiposi Rao Island, Morotai Islands, Indonesia. It is reachable from Daruba City. Tourists can use a speedboat to reach this island. It takes about 1-2 hours and it depends on the season. Batu Kopi isn't the only attraction in Posiposi Rao. There is also a beautiful waterfall near to this location. It is about 500 meters from Batu Kopi site. The waterfall is surrounded by unspoiled nature. It is suitable for adventurers. Overall, Batu Kopi becomes a new pride of Morotai Islands, Indonesia. Everyone should visit it.

Latest News
Gurabunga village is one of tourism village in Tidore Island that interesting to be visited. The name of Gurabunga means flower garden. In fact, this place is being filled with flower that been planted in every corner of the people house. This village has chilling nuance and refreshing air, because it located in 800 meter above sea level. The inhabitants houses are settled in a fertile area at the slope of Kie Matubu Mountain that has 1730 meter above sea level. Kie Matubu is famous in North Maluku as Tidore…
---
Since early of the last millennium, the small islands of Ternate and Tidore in the Moluccas were the only source for cloves in the world. Indian, Arab, Chinese and Javanese merchants used to call on these islands to carry home this precious cargo which sold at exorbitant prices in Europe and the Orient. Cloves, together with nutmeg and mace from the Banda islands were used to flavor and preserve food, as medicines and even as aphrodisiacs. But after the Crusades, the trade route to the Far East was blocked for…
---
Gamalama Mountain is located in Ternate, North Maluku Province, Indonesia. Gamalama is one of the volcanoes in North Maluku Province. In addition to this mountain, there's Mount Gamkonora in West Halmahera District, Mount Ibu and Mount Dakona residing in North Halmahera District, and Mount Kiebesi in South Halmahera. Gamalama itself is located on the island of Ternate and has a height of about 1715 m ASL (above sea level). Gamalama Mountain, which is also often referred to as the peak of Ternate, is a stratovolkano, the volcano high and conical,…
---
In Tobelo, North Maluku, there is a beautiful island which totally promoted by the government; Tagalaya island. The island of Tagalaya is giving cleaning water as glass and natural view like paintings. The beauty of Eastern Indonesia is never get enough to be discuss. We all agree that Maluku have dozen islands and hundred of wonderful beaches. The beach and island in Ambon, Ternate, Halmahera and the others surely can interest thousand tourists to visit and enjoy the natural charming. An island in Tobelo will totally teasing you. Its sea…
---