A Soothing Waterfall in Leo Leo Village, Morotai Island
---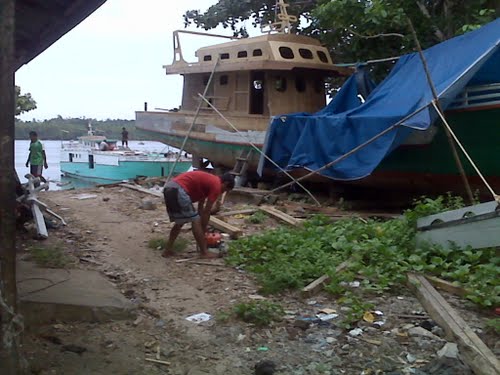 Morotai Island consists of many tourist spots. One of them is Leo Leo waterfall. As the name suggests, it is situated in Leo Leo village. Local people call it "air jatuh". The height is about 10 meters. The water is refreshing and the atmosphere is solemn. It is a nice spot for relaxing and playing water. Local people often come to this location. Some of them even are quite brave. They jump into the water from the top of the waterfall.
Solemn Nature around the Waterfall
Leo Leo village is surrounded by wild nature. The village has been developing over time. Local people in Leo Leo are approachable. Some of them may help visitors to explore Leo Leo. One thing, tourists need to perform an expedition to reach the waterfall. It takes both time and energy to go to such location. The temperature is quite hot. It is better to bring some bottled water during the trip. There is no convenience store around. Preparation is important so they won't get thirsty and tired during such long trip.
The waterfall isn't quite vast. Though, it offers many things for visitors. As mentioned earlier, tourists can jump from the top of the falls. The safest spot is at 3 meters of height. Behind the waterfall, there's a small cave. A human won't fit in it, though. What's more? The location is surrounded by river stones. Some of them are slippery. That means tourists should watch their steps. The stones become the home of small river mussels. They are edible. Local people often hunt them and cook them for daily snacks.
The best cloth to wear is a shirt and small pants. Visitors may expect to get wet later. It is hard to refuse the temptation of Leo Leo waterfall. The water is fresh and natural. In holidays, there are some tourists around in location. Even though it is safe to jump from the above into the water, it is not recommended for kids. A small mistake can lead to severe injuries. Tourists should be safe here.
Accommodations
Accommodation is an important aspect for tourists. There are some options of hotels and lodgings in Leo Leo village. Thanks to the local government. Visitors are able to enjoy a vacation in a more comfortable manner. The hotels come with many facilities. These include a tennis court, a golf court, pools, gyms, and much more.
How to Get There
In order to enjoy a refreshing water of Leo Leo waterfall, tourists should reach Leo Leo village. It is located in south part of Morotai Island. From Daruba, it takes 2 hours trip by a speedboat. From the village, it will be a tiring trip. Tourists can only reach the waterfall by trekking. Not to mention it takes more than 30 minutes of the trip from the village. During the trip, they will meet some small rivers. Even though it is a tiring journey, they can feel the fresh water of the waterfall. This location is also suitable for swimming and playing around.

Latest News
Gurabunga village is one of tourism village in Tidore Island that interesting to be visited. The name of Gurabunga means flower garden. In fact, this place is being filled with flower that been planted in every corner of the people house. This village has chilling nuance and refreshing air, because it located in 800 meter above sea level. The inhabitants houses are settled in a fertile area at the slope of Kie Matubu Mountain that has 1730 meter above sea level. Kie Matubu is famous in North Maluku as Tidore…
---
Since early of the last millennium, the small islands of Ternate and Tidore in the Moluccas were the only source for cloves in the world. Indian, Arab, Chinese and Javanese merchants used to call on these islands to carry home this precious cargo which sold at exorbitant prices in Europe and the Orient. Cloves, together with nutmeg and mace from the Banda islands were used to flavor and preserve food, as medicines and even as aphrodisiacs. But after the Crusades, the trade route to the Far East was blocked for…
---
Gamalama Mountain is located in Ternate, North Maluku Province, Indonesia. Gamalama is one of the volcanoes in North Maluku Province. In addition to this mountain, there's Mount Gamkonora in West Halmahera District, Mount Ibu and Mount Dakona residing in North Halmahera District, and Mount Kiebesi in South Halmahera. Gamalama itself is located on the island of Ternate and has a height of about 1715 m ASL (above sea level). Gamalama Mountain, which is also often referred to as the peak of Ternate, is a stratovolkano, the volcano high and conical,…
---
In Tobelo, North Maluku, there is a beautiful island which totally promoted by the government; Tagalaya island. The island of Tagalaya is giving cleaning water as glass and natural view like paintings. The beauty of Eastern Indonesia is never get enough to be discuss. We all agree that Maluku have dozen islands and hundred of wonderful beaches. The beach and island in Ambon, Ternate, Halmahera and the others surely can interest thousand tourists to visit and enjoy the natural charming. An island in Tobelo will totally teasing you. Its sea…
---