A Historical Vacation in Pitu Airbase, Morotai Island
---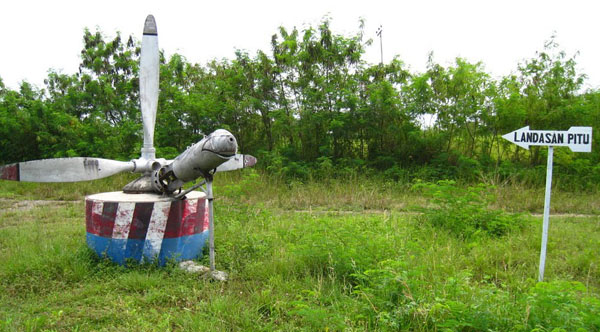 Morotai Island should be the pride of Indonesia archipelago. It has many tourist lures and historical sites. Many people know a fact about the island. Morotai had involved in the WWII. Due to this reason, there are some historical landmarks scattered around the island. One of them is Landasan Pitu. This was an airbase of the US during the World War II. It's built in 1944. There are 7 landing strips. One of them has been used as an airport. That means tourists can fly by airplane to reach Landasan Pitu.
Landasan Pitu is Important to Morotai Island
Pitu means seven while Landasan means the landing strip. These were local language. The whole meaning is an airbase that comes with 7 airstrips. It was an airbase of the United States. They were able to defeat Japan by air. Today, Landasan Pitu becomes both a tourist spot and an airport. Many people come here to see this historical landmark. They want to see directly this vast airbase. As if, they are able to feel the reminiscences of the past times.
Landasan Pitu has the width of 70 meters. The length is 2400 meters. Today, it has been a reliable airport of Morotai Island. Not to mention the flight frequency is increasing over time. This airbase becomes more popular as the time goes by. Not only it is famous for its historical value, but it is also a useful air transport destination. Many tourists can take advantage of the airport when visiting Morotai. There is no more uncomfortable sea trip by ferries.
Pitu airbase is located near to the Pacific Ocean. That means it is quite strategic. It can be the center of air doorway for both local and international flights. It can be beneficial for both tourists and the government. Landasan Pitu should be the primary destination for the East Indonesia tourism. It has lots of potentials. On top of that, it owns a valuable history. This airbase was the reminiscence of WWII. In fact, it is still active till now. There's the chance to witness some ruins of the WWII nearby. Landasan Pitu is a strategic place for historical vacation, after all.
How to Enjoy a Historical Site
For many, a historical vacation sounds boring and daunting. It isn't true. It gives an opportunity to learn an astonishing story of the site. Landasan Pitu isn't an exception. It holds a worthy history of Morotai Island. Historians and regular tourists would be happy to learn about this airbase. In fact, it will be considered as a commercial airport. This way, Morotai Island becomes more accessible for both local and foreign visitors. Taking pictures near to Landasan Pitu can be a fun activity, as well.
How to Get There
Landasan Pitu is located in Wamama, South Morotai. Tourists can visit it by numerous methods. For example, they can directly visit it by air. Soon, it will be a commercial airport so everyone can come here easier. The next method is by land. Tourists can rent a car in any cities of Morotai. They only need to go south. The destination is Wamama city. Another choice is by sea. A ferry may take them from other islands to South Morotai.

Latest News
Gurabunga village is one of tourism village in Tidore Island that interesting to be visited. The name of Gurabunga means flower garden. In fact, this place is being filled with flower that been planted in every corner of the people house. This village has chilling nuance and refreshing air, because it located in 800 meter above sea level. The inhabitants houses are settled in a fertile area at the slope of Kie Matubu Mountain that has 1730 meter above sea level. Kie Matubu is famous in North Maluku as Tidore…
---
Since early of the last millennium, the small islands of Ternate and Tidore in the Moluccas were the only source for cloves in the world. Indian, Arab, Chinese and Javanese merchants used to call on these islands to carry home this precious cargo which sold at exorbitant prices in Europe and the Orient. Cloves, together with nutmeg and mace from the Banda islands were used to flavor and preserve food, as medicines and even as aphrodisiacs. But after the Crusades, the trade route to the Far East was blocked for…
---
Gamalama Mountain is located in Ternate, North Maluku Province, Indonesia. Gamalama is one of the volcanoes in North Maluku Province. In addition to this mountain, there's Mount Gamkonora in West Halmahera District, Mount Ibu and Mount Dakona residing in North Halmahera District, and Mount Kiebesi in South Halmahera. Gamalama itself is located on the island of Ternate and has a height of about 1715 m ASL (above sea level). Gamalama Mountain, which is also often referred to as the peak of Ternate, is a stratovolkano, the volcano high and conical,…
---
In Tobelo, North Maluku, there is a beautiful island which totally promoted by the government; Tagalaya island. The island of Tagalaya is giving cleaning water as glass and natural view like paintings. The beauty of Eastern Indonesia is never get enough to be discuss. We all agree that Maluku have dozen islands and hundred of wonderful beaches. The beach and island in Ambon, Ternate, Halmahera and the others surely can interest thousand tourists to visit and enjoy the natural charming. An island in Tobelo will totally teasing you. Its sea…
---