Learn How to Relax in Rorasa Beach, Morotai Island
---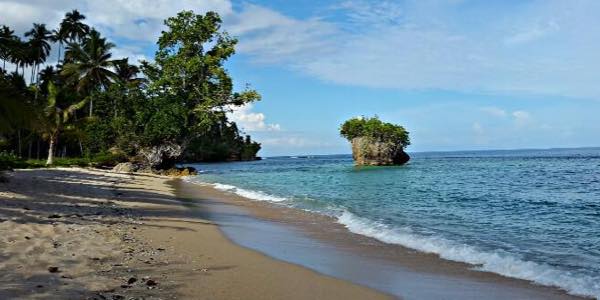 Morotai Island should be a prime tourist destination in the east part of Indonesia archipelago. The island has some historical sites and beautiful beaches. One of the best coasts is Rorasa Beach. Rorasa lies in Buho Buho village. Everyone can reach it easily from the main city of Morotai. The beach has a distinct charm. One of its unique characteristics is the lonely coral reef, which is located near to the shorelines. Even though it doesn't have white sand, it is still a worthy place to visit.
Explore the Beauty of Rorasa Beach
Many local people are around. Most of them come from the nearest village, Buho Buho. The beach is crowded during the afternoon. Visitors want to enjoy the sunset. They often come with their friends, kids, and families. They can even talk to strangers and make some friends. Though, the beach is quiet during working days. Thus, the best time to visit Rorasa Beach is during the holidays or weekends. Sometimes, there is a group tour as well. It's because Rorasa is quite famous.
The beach isn't only suitable for relaxing, but it is also the best place to enjoy fresh coconut. Some locals help tourists to get young coconuts. It is fresh and delicious. In order to improve the taste, they can include some extras either white or brown sugar. Some of them prefer to add syrup, though. The price isn't expensive. It is both healthy and fresh drink. In fact, it is the perfect drink for a beach vacation. Rorasa has several coconut trees, so it is easy to get the coconut drinks. Tourists can rely on locals' help.
Another fun activity is photography. During a nice weather, tourists should take some pictures here. A better camera can produce better results. It also depends on photography skills. For better lights, they need to use a manual exposure. The best object is the lonely coral reef. It is the trademark of Rorasa Beach. Overall, the beach provides ample backgrounds for selfies and numerous photography purposes.
Things to Prepare
It is better to wear comfortable clothes and sandals. A beach vacation should be relaxing and unburdened. During summer, the heat can be quite troublesome. It is wise to prepare a suncream. Wearing a sunglasses and a hat is a good idea. When it comes to an emergency, there are some locals nearby. A trash bag and zip lock are also required. It is wrong to carelessly throw thrashes around the beach. A trash bag can prevent it from happening. What about the zip lock? It can store personal items like a mobile phone, first aids, etc.
How to Get There
In a nutshell, Rorasa Beach is famous for its coconut trees and relaxing atmosphere. That means it is suitable for a family vacation. It becomes one of the best tourist destinations in Morotai Island. It has an easy access so all tourists can come without hassles. They only need to reach Buho Buho village from Daruba or other cities. There are many public vehicles available. Once they reach the village, they need to walk to such location. No worries. It doesn't take much time.

Latest News
Gurabunga village is one of tourism village in Tidore Island that interesting to be visited. The name of Gurabunga means flower garden. In fact, this place is being filled with flower that been planted in every corner of the people house. This village has chilling nuance and refreshing air, because it located in 800 meter above sea level. The inhabitants houses are settled in a fertile area at the slope of Kie Matubu Mountain that has 1730 meter above sea level. Kie Matubu is famous in North Maluku as Tidore…
---
Since early of the last millennium, the small islands of Ternate and Tidore in the Moluccas were the only source for cloves in the world. Indian, Arab, Chinese and Javanese merchants used to call on these islands to carry home this precious cargo which sold at exorbitant prices in Europe and the Orient. Cloves, together with nutmeg and mace from the Banda islands were used to flavor and preserve food, as medicines and even as aphrodisiacs. But after the Crusades, the trade route to the Far East was blocked for…
---
Gamalama Mountain is located in Ternate, North Maluku Province, Indonesia. Gamalama is one of the volcanoes in North Maluku Province. In addition to this mountain, there's Mount Gamkonora in West Halmahera District, Mount Ibu and Mount Dakona residing in North Halmahera District, and Mount Kiebesi in South Halmahera. Gamalama itself is located on the island of Ternate and has a height of about 1715 m ASL (above sea level). Gamalama Mountain, which is also often referred to as the peak of Ternate, is a stratovolkano, the volcano high and conical,…
---
In Tobelo, North Maluku, there is a beautiful island which totally promoted by the government; Tagalaya island. The island of Tagalaya is giving cleaning water as glass and natural view like paintings. The beauty of Eastern Indonesia is never get enough to be discuss. We all agree that Maluku have dozen islands and hundred of wonderful beaches. The beach and island in Ambon, Ternate, Halmahera and the others surely can interest thousand tourists to visit and enjoy the natural charming. An island in Tobelo will totally teasing you. Its sea…
---