Surf like a Pro in Tanjung Sopi, Morotai Island
---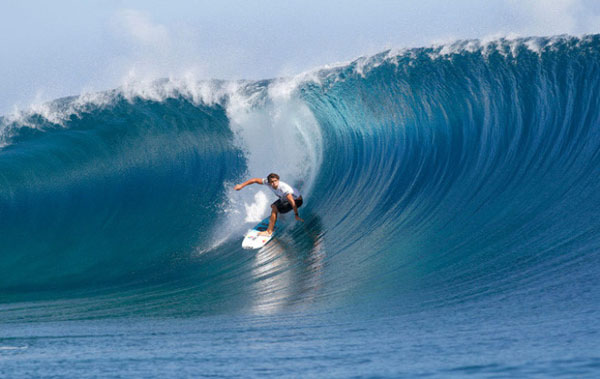 Most of the people recognize Morotai Island as the best spot for water sports. Well, they aren't wrong. The island has numerous tourist destinations. Tanjung Sopi isn't an exception. As the name suggests, it is located in Sopi village. It has a challenging and beautiful beach. The waves are quite strong so it is suitable for professional surfers. In fact, Tanjung Sopi is considered one of the best surfing spots in Indonesia. Local government keeps improving tourist facilities in this village. Hopefully, it becomes the nation's pride.
Experiencing the Best Waves
As mentioned earlier, Tanjung Sopi is all about surfing. Both local and foreign tourists come to Sopi village. They have one thing in common, which is to beat the waves! The Sopi coast is situated in the north part of the village. It fits both beginners (with guides) and pros. Though, surfing alone isn't recommended. Beginners shouldn't be too confident as the waves can be unpredictable. Sopi village doesn't have many options of accommodations. As for an alternative, tourists can stay at villagers' house.
It is true tourists need to spend much time and effort to reach Tanjung Sopi. Though, the village is worth to visit. In fact, more foreigners visit it every year. Their goal is the same. They want to experience the strength of Tanjung Sopi's waves. Some surfers say it is similar to that of East Java's G-Land and Sumatran's Mentawai. The wildness of the waves becomes the main attraction for tourists. In fact, the government conducted an international surfing competition back then.
It is wise to say Tanjung Sopi's waves are equal to other surfing spots like Nias, Bali, Morja, Mentawai, and East Java. The best time to surf is between November-March. Visitors can expect more surfers in such season. It isn't recommended to visit Sopi village in March-May. It's because the waves aren't quite good. Another thing is the warmth of the locals. Villagers are approachable and they are responsive.
Tips to Surf
As mentioned before, Tanjung Sopi's waves are strong and unpredictable. Beginners shouldn't surf by themselves. They should get guidance from an experienced surfer first. It is a basic requirement. A careless act only leads to fatal injuries and even death. For beginners, a big surfboard is a must. It helps them develop better grip. Not to mention it helps them deal with big waves better. It is quite rare to find beginners nearby. Only professional surfers have the guts to jump in the water. They have both experience and skills, after all.
How to Get There
There is no road to reach Tanjung Sopi. The only way is through the sea. Tourists can reach Sopi village from Daruba. A speedboat is a common transportation. Usually, it takes up to 6 hours. It depends on the sea condition, though. During terrible waves and weather, no one even dares to cross the sea. Tourists must learn the best time to visit Tanjung Sopi. Otherwise, it only leads to disappointments. A speedboat departs in a scheduled manner. It is usually once a week.

Latest News
Gurabunga village is one of tourism village in Tidore Island that interesting to be visited. The name of Gurabunga means flower garden. In fact, this place is being filled with flower that been planted in every corner of the people house. This village has chilling nuance and refreshing air, because it located in 800 meter above sea level. The inhabitants houses are settled in a fertile area at the slope of Kie Matubu Mountain that has 1730 meter above sea level. Kie Matubu is famous in North Maluku as Tidore…
---
Since early of the last millennium, the small islands of Ternate and Tidore in the Moluccas were the only source for cloves in the world. Indian, Arab, Chinese and Javanese merchants used to call on these islands to carry home this precious cargo which sold at exorbitant prices in Europe and the Orient. Cloves, together with nutmeg and mace from the Banda islands were used to flavor and preserve food, as medicines and even as aphrodisiacs. But after the Crusades, the trade route to the Far East was blocked for…
---
Gamalama Mountain is located in Ternate, North Maluku Province, Indonesia. Gamalama is one of the volcanoes in North Maluku Province. In addition to this mountain, there's Mount Gamkonora in West Halmahera District, Mount Ibu and Mount Dakona residing in North Halmahera District, and Mount Kiebesi in South Halmahera. Gamalama itself is located on the island of Ternate and has a height of about 1715 m ASL (above sea level). Gamalama Mountain, which is also often referred to as the peak of Ternate, is a stratovolkano, the volcano high and conical,…
---
In Tobelo, North Maluku, there is a beautiful island which totally promoted by the government; Tagalaya island. The island of Tagalaya is giving cleaning water as glass and natural view like paintings. The beauty of Eastern Indonesia is never get enough to be discuss. We all agree that Maluku have dozen islands and hundred of wonderful beaches. The beach and island in Ambon, Ternate, Halmahera and the others surely can interest thousand tourists to visit and enjoy the natural charming. An island in Tobelo will totally teasing you. Its sea…
---