Gorua Village is a Sacred Tourist Destination in Morotai
---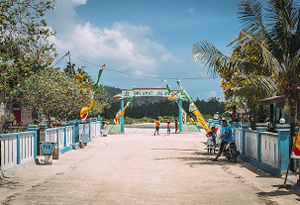 Morotai Island offers many tourist attractions. Unfortunately, not many people are familiar with this small island. Morotai is part of the North Halmahera and it holds numerous unspoiled natures. Not to mention there are many attractive local villages. Gorua village is not an exception. The village is located near to Gorango Cape. It is a warm and friendly. The villagers are approachable so tourists can enjoy a wonderful vacation here. Gorua also has a beautiful beach. Not to mention there are some ancient tombs. Local people consider them as a sacred place.
Things Tourists Can Do at Gorua Village
Gorua is known as a sacred place for tourists. It is different than other regular tourist spots. That means visitors can either get fun and spiritual experience in Gorua. A religious tourism is a popular activity, after all. Hopefully, the visitors are able to get blessed through this spiritual holiday. There are some historical mosques and sites near the village. This should be one of the reasons to visit Gorua village. Also, most local people try to find a peace and a better spiritual quality in Gorua.
Well, Gorua village is not only about sacred tombs and historical sites. It also offers the beauty of Gorua beach. It is an exotic and calm place to enjoy a vacation. The beach has crystal clear water and bright sand. It is situated in a secluded area so the beach is quite pure. In some occasionsm, tourists can witness some local fishermen with their traditional boats. The tranquil sky increases the value of Gorua beach. Overall, it is a worthy tourist spot.
Local people at Garua village are welcoming. It is true that they are quite brave and independent. Though, they won't do any harm to visitors. They are also famous for their openness. Plus, they are all good to foreign people. With this reason, tourists can ask for help from local people easily. They can even learn the local culture of Garua village. It is an opportunity to learn local language from these people. It is fun. Also, taking pictures with the villagers is a good idea.
Tips to Enjoy a Vacation in Garua Village
Tourists can either visit Garua sacred tombs or beach. Both of them are worth to visit. For a beach vacation, they can simply enjoy the solemn nature and beauty scenery of the coast. There's the chance to collect some seashells, sea urchins, and starfish. They may expect hot temperature, though. It is better to apply some sunscreen on the skin. As for the sacred tombs tour, visitors should dress properly and follow instructions given by local people. Not to mention they must keep calm during the pilgrimage.
How to Get There
Gorua village belongs to the North Morotai region. A local ferry departs once a week. The journey starts from Daruba city. The destination is Tobelo port. Once tourists arrive at Tobelo, they should continue their journey to Gorua village. Some local transportation services are available. Thus, it won't be hard to reach the village. One thing, the cost of transportation service can be quite expensive during holidays. It is wise to learn how to bargain.

Latest News
Gurabunga village is one of tourism village in Tidore Island that interesting to be visited. The name of Gurabunga means flower garden. In fact, this place is being filled with flower that been planted in every corner of the people house. This village has chilling nuance and refreshing air, because it located in 800 meter above sea level. The inhabitants houses are settled in a fertile area at the slope of Kie Matubu Mountain that has 1730 meter above sea level. Kie Matubu is famous in North Maluku as Tidore…
---
Since early of the last millennium, the small islands of Ternate and Tidore in the Moluccas were the only source for cloves in the world. Indian, Arab, Chinese and Javanese merchants used to call on these islands to carry home this precious cargo which sold at exorbitant prices in Europe and the Orient. Cloves, together with nutmeg and mace from the Banda islands were used to flavor and preserve food, as medicines and even as aphrodisiacs. But after the Crusades, the trade route to the Far East was blocked for…
---
Gamalama Mountain is located in Ternate, North Maluku Province, Indonesia. Gamalama is one of the volcanoes in North Maluku Province. In addition to this mountain, there's Mount Gamkonora in West Halmahera District, Mount Ibu and Mount Dakona residing in North Halmahera District, and Mount Kiebesi in South Halmahera. Gamalama itself is located on the island of Ternate and has a height of about 1715 m ASL (above sea level). Gamalama Mountain, which is also often referred to as the peak of Ternate, is a stratovolkano, the volcano high and conical,…
---
In Tobelo, North Maluku, there is a beautiful island which totally promoted by the government; Tagalaya island. The island of Tagalaya is giving cleaning water as glass and natural view like paintings. The beauty of Eastern Indonesia is never get enough to be discuss. We all agree that Maluku have dozen islands and hundred of wonderful beaches. The beach and island in Ambon, Ternate, Halmahera and the others surely can interest thousand tourists to visit and enjoy the natural charming. An island in Tobelo will totally teasing you. Its sea…
---