An Awe-inspiring Vacation in Raja Waterfall, Morotai
---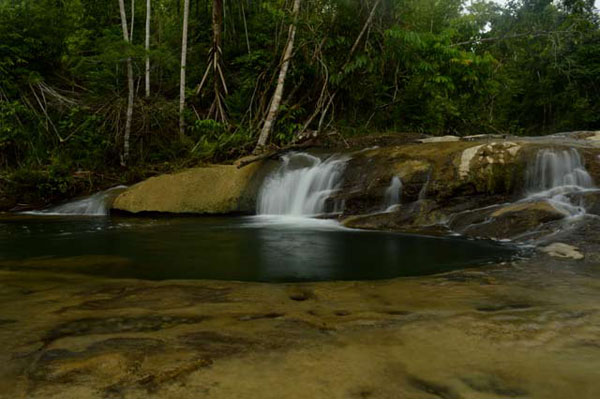 Morotai Island never disappoints everyone. It has many beautiful tourist spots. In Raja village, there is a fabulous fall. The name is Raja Waterfall. It becomes the pride of this rural area. There are two parts of the falls. The first one is located near to the village. It has the height of two meters. Another one is taller, which is 7 meters in height. However, it is situated quite far from the Raja village. It is about 17 km. Raja village isn't only suitable for a waterfall vacation, but it is also perfect for trekking.
Exploring Raja Waterfall
The waterfall is quite lively. It isn't difficult to reach the waterfall. There was a timber company nearby. However, it has stopped operating. Local people often visit Raja Waterfall for washing clothes. It is a rural area, after all. That means tourists may expect to meet some villagers nearby. There are also some kids. They play near to water spiritedly and look for some fishes. The environment is quite calm and refreshing. The sound of the current and the breeze of the wind are great extras.
Most of the time, the environment can be quite chilly. It is better to wear proper clothes while trekking here. Once tourists reach the waterfall, they can see the beauty of panorama. It is appealing. Visitors can relax and feel solemn of nature. They can even find some seats nearby. Local people built these for visitors. The waterfall is suitable for both a family vacation and adventure. Some trekkers also often come here. They want to explore the undamaged nature near to the waterfall.
Raja Waterfall isn't quite tall. Though, it is as beautiful as others. For those with more curiosity, there is a taller waterfall nearby. Not many tourists like this idea as they need to conduct a tiring trekking. The distance is about 15 km! They consider Raja Waterfall is satisfying enough. In the waterfall point, there is a natural pool. It is safe so they can swim here. Both kids and adults would love it. The water is clear and fresh. It is a perfect spot for a family vacation.
What to Prepare
It is wise to prepare everything. It is because Raja village doesn't have ample tourist facilities. The most important things are foods and drinks. The trip can be quite tiring. Tourists must carry some snacks and drinks. They should be hydrated as it retains their stamina. As for snacks, these help them retain energy. A good stamina is needed, after all. Next, they must know the trail. That means visitors should have some knowledge of where they are heading. In this case, the help of a local guide becomes a good idea.
How to Get There
From Daruba city, it takes 1 about an hour using a motorcycle. In Raja village, there is a right turn. Tourists should follow this path. The road isn't paved yet. Some local people may tell them how to get to the location. It also requires a trekking. Once they find a river, they need only to follow it. This leads them to a lovely Raja Waterfall.

Latest News
Gurabunga village is one of tourism village in Tidore Island that interesting to be visited. The name of Gurabunga means flower garden. In fact, this place is being filled with flower that been planted in every corner of the people house. This village has chilling nuance and refreshing air, because it located in 800 meter above sea level. The inhabitants houses are settled in a fertile area at the slope of Kie Matubu Mountain that has 1730 meter above sea level. Kie Matubu is famous in North Maluku as Tidore…
---
Since early of the last millennium, the small islands of Ternate and Tidore in the Moluccas were the only source for cloves in the world. Indian, Arab, Chinese and Javanese merchants used to call on these islands to carry home this precious cargo which sold at exorbitant prices in Europe and the Orient. Cloves, together with nutmeg and mace from the Banda islands were used to flavor and preserve food, as medicines and even as aphrodisiacs. But after the Crusades, the trade route to the Far East was blocked for…
---
Gamalama Mountain is located in Ternate, North Maluku Province, Indonesia. Gamalama is one of the volcanoes in North Maluku Province. In addition to this mountain, there's Mount Gamkonora in West Halmahera District, Mount Ibu and Mount Dakona residing in North Halmahera District, and Mount Kiebesi in South Halmahera. Gamalama itself is located on the island of Ternate and has a height of about 1715 m ASL (above sea level). Gamalama Mountain, which is also often referred to as the peak of Ternate, is a stratovolkano, the volcano high and conical,…
---
In Tobelo, North Maluku, there is a beautiful island which totally promoted by the government; Tagalaya island. The island of Tagalaya is giving cleaning water as glass and natural view like paintings. The beauty of Eastern Indonesia is never get enough to be discuss. We all agree that Maluku have dozen islands and hundred of wonderful beaches. The beach and island in Ambon, Ternate, Halmahera and the others surely can interest thousand tourists to visit and enjoy the natural charming. An island in Tobelo will totally teasing you. Its sea…
---