The Reminiscences of WWII in Gotalamo Village, Morotai - Indonesia
---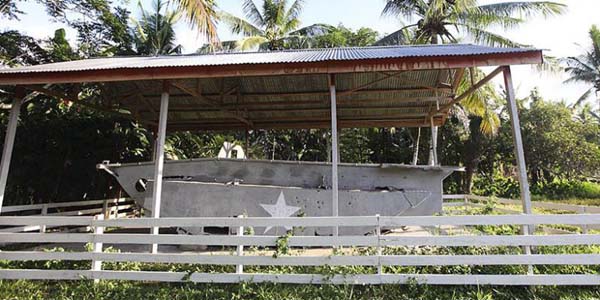 Morotai Island is a hidden gem of Indonesia Archipelago. It is located in the east part of the country. Actually, Morotai belongs to Maluku Province of Indonesia. It has beautiful nature such as beaches, corals, and marine lives. Apart from that, Morotai offers a unique attraction. It is in Gotolamo village. Visitors can enjoy the reminiscences of World War II. The United States army made a war base on the island during the war against Japan. Though, they left the war ruins or wrecks behind. Today, Gotolamo becomes a tourist point of Morotai Island.
What to See in Gotolamo Village
The most famous attraction is the amphibious tank. It is located in an open area. The tank is rusty and old. It is deteriorating over time. Fortunately, local people have built a modest shelter for this war ruin. It may protect the tank from rain and heat. As mentioned earlier, it is situated in an uncluttered area. That means tourists can witness this majestic war wreck freely. They don't need to pay for anything. The amphibious tank becomes a perfect background for taking pictures, as well. Thus, a camera is a primary item during a vacation to Gotolamo village, Indonesia.
The next thing to see is Bristol Beaufort airplane wreck. This war ruin is situated beneath the sea. In order to witness this majestic ruin, tourists should have proper diving skill. No worries. There are some diving instructors nearby. They will guide them through this ruin. The airplane wreck is covered by tiny corals and sea moss. It is also the home of small fishes. The thing is most of the wrecks are scattered all over the island. Also, some of them are buried under the sea. All of them are in bad conditions. They are quite old and corroded.
The amphibious tank is quite famous among tourists. It is an icon of Gotolamo village. The other war ruins are recovered by the government. There is a WWII museum nearby. Tourists can learn the history and see some replicas of WWII wrecks. In the past, there were more than 3,000 war ruins in Morotai. Today, there are only a few of them left. The amphibious tank becomes the most attractive WWII ruin in Morotai Island. No wonder, more visitors come here every year.
Enjoy the Local Culture and Dishes
Gotolamo village also offers a unique tradition. Tourists can meet local people of Gotolamo. They are quite approachable. They often accompany tourists to get around the village. Some of them even do it freely. There are some opportunities to learn local culture, too. Next, they can enjoy traditional foods of Morotai. These include Nasi Jaha, Papeda, Gatang Kenari, Gohu, and Halua Kenari. There are also numerous types of seafood. Overall, a vacation in Gotolamo village won't be disappointing.
How to Get There
Gotolamo is situated in the South Morotai Regency of Indonesia. It is reachable from the main city. Approximately, the trip takes less than 30 minutes. It takes more than that if tourists decide to go by motorcycles. The most comfortable option is a car rent. Also, the village is located near to the sea. Tourists can expect beautiful views during the trip.

Latest News
Gurabunga village is one of tourism village in Tidore Island that interesting to be visited. The name of Gurabunga means flower garden. In fact, this place is being filled with flower that been planted in every corner of the people house. This village has chilling nuance and refreshing air, because it located in 800 meter above sea level. The inhabitants houses are settled in a fertile area at the slope of Kie Matubu Mountain that has 1730 meter above sea level. Kie Matubu is famous in North Maluku as Tidore…
---
Since early of the last millennium, the small islands of Ternate and Tidore in the Moluccas were the only source for cloves in the world. Indian, Arab, Chinese and Javanese merchants used to call on these islands to carry home this precious cargo which sold at exorbitant prices in Europe and the Orient. Cloves, together with nutmeg and mace from the Banda islands were used to flavor and preserve food, as medicines and even as aphrodisiacs. But after the Crusades, the trade route to the Far East was blocked for…
---
Gamalama Mountain is located in Ternate, North Maluku Province, Indonesia. Gamalama is one of the volcanoes in North Maluku Province. In addition to this mountain, there's Mount Gamkonora in West Halmahera District, Mount Ibu and Mount Dakona residing in North Halmahera District, and Mount Kiebesi in South Halmahera. Gamalama itself is located on the island of Ternate and has a height of about 1715 m ASL (above sea level). Gamalama Mountain, which is also often referred to as the peak of Ternate, is a stratovolkano, the volcano high and conical,…
---
In Tobelo, North Maluku, there is a beautiful island which totally promoted by the government; Tagalaya island. The island of Tagalaya is giving cleaning water as glass and natural view like paintings. The beauty of Eastern Indonesia is never get enough to be discuss. We all agree that Maluku have dozen islands and hundred of wonderful beaches. The beach and island in Ambon, Ternate, Halmahera and the others surely can interest thousand tourists to visit and enjoy the natural charming. An island in Tobelo will totally teasing you. Its sea…
---