Gorango Cape is a Concealed Beauty of Morotai Island
---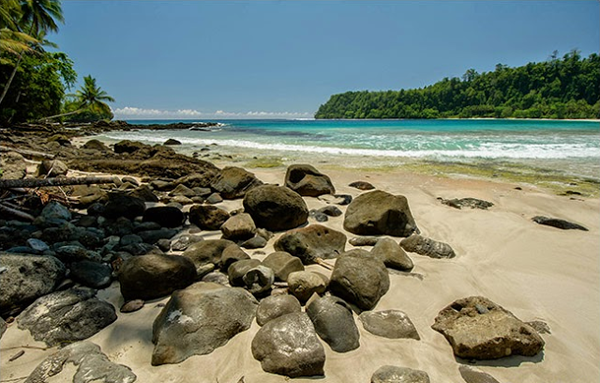 Indonesia is an archipelago country. It has tons of beautiful islands. In North Maluku, there is Morotai Island. The size isn't quite big. Though, it offers many attractions for visitors. Gorango cape is one of them. This beautiful cape is located between Korago and Gorua villages. It actually belongs to North Morotai region. It is a new tourist spot and it has unspoiled nature. Gorango means "shark". Gorango derives from a local language, after all. The name sounds scary, doesn't it? However, there is zero record of shark attacks in Gorango cape.
Gorango Cape's Charm
Local people call this place Tanjung Gorango. It is famous for its natural beauty. The cape is located in a secluded area. Thus, tourists may expect clean and comfortable environment. The waves are calm and the sea water is clear. This area is surrounded by green hills. There are many trees around the cape. In a nutshell, Gorango cape is suitable for water sports and relaxing. It is a perfect gateway for tourists. Visitors can simply relax and watch the solemn nature in this cape.
There are stones, corals, and hills in the left part of Gorango cape. These are the extras for Gorango's beauty. The landscape is beyond amazing. It is gorgeous. The best time to visit Tanjung Gorango is during the low tide. The land becomes more spacious so tourists can satisfy their exploration lust. The seashores are shallow. Everyone can walk around shorelines freely. It is also safe to play some water sports. Not to mention the breeze of the wind is calming.
The splash of the waves is soothing. No wonder, Gorango cape becomes a great location for refreshing. The texture of the sand isn't quite soft. However, it doesn't hurtful at all. The cape is suitable for both passive and active tourists. Surfing is suitable for those with an adventurous spirit. The waves aren't too strong so beginners can safely enjoy such water sport. There are no facilities nearby. Though, tourists can relax under the shade of trees. All of these attractions have brought more visitors to Gorango Cape.
Important Things to Know
As mentioned earlier, the waves aren't quite big for surfers. That doesn't mean it is safe for swimmers. It can be dangerous for unskilled swimmers so everyone should be careful. Next, it is related to the foods and drinks. Tourists should prepare these things beforehand. It's because there are no many local people around. Gorango cape also lacks facilities. It will be difficult to buy some drinks and foods. Therefore, it's better to be prepared. Bottled water is a must. The atmosphere can be quite dry during summer.
How to Get There
Tanjung Gorango is reachable from Daruba city. It takes a land trip. Usually, it takes up to 3 hours. The best transportation choice is a car. It is both safe and comfortable. Tourists can rent it in Daruba. In summer, the street becomes dusty. Despite this hardship, they won't get disappointed at all. Tourists can enjoy the beauty of nature during the journey. Their tiredness would go away once they arrive at Gorango cape. It's a beautiful and refreshing vacation spot, after all.

Latest News
Gurabunga village is one of tourism village in Tidore Island that interesting to be visited. The name of Gurabunga means flower garden. In fact, this place is being filled with flower that been planted in every corner of the people house. This village has chilling nuance and refreshing air, because it located in 800 meter above sea level. The inhabitants houses are settled in a fertile area at the slope of Kie Matubu Mountain that has 1730 meter above sea level. Kie Matubu is famous in North Maluku as Tidore…
---
Since early of the last millennium, the small islands of Ternate and Tidore in the Moluccas were the only source for cloves in the world. Indian, Arab, Chinese and Javanese merchants used to call on these islands to carry home this precious cargo which sold at exorbitant prices in Europe and the Orient. Cloves, together with nutmeg and mace from the Banda islands were used to flavor and preserve food, as medicines and even as aphrodisiacs. But after the Crusades, the trade route to the Far East was blocked for…
---
Gamalama Mountain is located in Ternate, North Maluku Province, Indonesia. Gamalama is one of the volcanoes in North Maluku Province. In addition to this mountain, there's Mount Gamkonora in West Halmahera District, Mount Ibu and Mount Dakona residing in North Halmahera District, and Mount Kiebesi in South Halmahera. Gamalama itself is located on the island of Ternate and has a height of about 1715 m ASL (above sea level). Gamalama Mountain, which is also often referred to as the peak of Ternate, is a stratovolkano, the volcano high and conical,…
---
In Tobelo, North Maluku, there is a beautiful island which totally promoted by the government; Tagalaya island. The island of Tagalaya is giving cleaning water as glass and natural view like paintings. The beauty of Eastern Indonesia is never get enough to be discuss. We all agree that Maluku have dozen islands and hundred of wonderful beaches. The beach and island in Ambon, Ternate, Halmahera and the others surely can interest thousand tourists to visit and enjoy the natural charming. An island in Tobelo will totally teasing you. Its sea…
---