Trikora Monument as an Icon of Morotai Island
---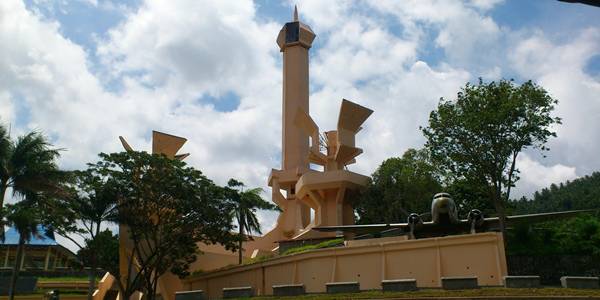 A small island like Morotai is a unique vacation destination. It is a perfect gateway for everyone. Not only it has a beautiful landscape, but it also offers numerous historical sites. There's an icon of Morotai Island. The name is Trikora Monument. This historic monument is located in Juanga village. The government constructed it as the symbol of Trikora operation. It also represents the first arrival of Indonesian army in the west part of the nation. At that time, Soekarno created such special force to get rid of Dutch in West Papua.
The Function of the Monument
Morotai Island became one of the bases of Trikora. Thus, they were able to deal with Dutch army in West Papua. Due to continuous efforts, Indonesia won the battle. The monument was built to commemorate such conflict. Today, it becomes an icon and the pride of the island. It consists of several statues of soldier. One of them carries the Indonesia's national flag. It symbolizes the freedom of the country. There are no more invasions from other nations. Trikora Monument is a good place for a vacation. Both foreign and local tourists are interested to witness this historical structure. Tourists are able to take pictures in front of Trikora Monument.
Apart from the monument, Juanga village also offers other famous sites. For instance, there is Trikora Museum nearby. It displays some historical items and documents. It took several years to build both Trikora monument and museum. Both of them become the symbol of triumphs and difficulties in achieving a freedom. For those who love history, Trikora monument is a perfect place to visit. Moreover, Juanga village offers a solemn atmosphere. There are many places to explore.
There's no entrance fee to the monument. Why is that? It is located in an open place. Everyone can visit and witness it freely. Though, it takes some money to enter the museum. Tourists can ask some question to local people. There are also some tour guides. They can be hired cheaply. Tourists only need to learn how to bargain. Also, it's better to read the brochure regarding the history of the Trikora monument. No worries. The guide will tell about such story.
It Lies in a Strategic Locatiom
Morotai is a beautiful island. It offers beautiful sceneries and historical sites. No wonder, tourists often come to this small island. Trikora monument has been one of the best tourist spots in Morotai. It attracts visitors over time. Apart from the historical value, the monument has a strategic location. It is situated near to the coast. Thus, tourists can enjoy beautiful scenery of the beach. It is a worthy place to visit. The government has built Trikora museum and some tourist facilities nearby.
How to Get There
The size of the monument is quite big. It's located in a coastal area in Juanga village. From the main city, tourists need to go south. Juangan village is the part of South Morotai region, after all. The trip doesn't take too much time. There are many local cars to rent, as well. For beginners, hiring a tour guide is a good idea.

Latest News
Gurabunga village is one of tourism village in Tidore Island that interesting to be visited. The name of Gurabunga means flower garden. In fact, this place is being filled with flower that been planted in every corner of the people house. This village has chilling nuance and refreshing air, because it located in 800 meter above sea level. The inhabitants houses are settled in a fertile area at the slope of Kie Matubu Mountain that has 1730 meter above sea level. Kie Matubu is famous in North Maluku as Tidore…
---
Since early of the last millennium, the small islands of Ternate and Tidore in the Moluccas were the only source for cloves in the world. Indian, Arab, Chinese and Javanese merchants used to call on these islands to carry home this precious cargo which sold at exorbitant prices in Europe and the Orient. Cloves, together with nutmeg and mace from the Banda islands were used to flavor and preserve food, as medicines and even as aphrodisiacs. But after the Crusades, the trade route to the Far East was blocked for…
---
Gamalama Mountain is located in Ternate, North Maluku Province, Indonesia. Gamalama is one of the volcanoes in North Maluku Province. In addition to this mountain, there's Mount Gamkonora in West Halmahera District, Mount Ibu and Mount Dakona residing in North Halmahera District, and Mount Kiebesi in South Halmahera. Gamalama itself is located on the island of Ternate and has a height of about 1715 m ASL (above sea level). Gamalama Mountain, which is also often referred to as the peak of Ternate, is a stratovolkano, the volcano high and conical,…
---
In Tobelo, North Maluku, there is a beautiful island which totally promoted by the government; Tagalaya island. The island of Tagalaya is giving cleaning water as glass and natural view like paintings. The beauty of Eastern Indonesia is never get enough to be discuss. We all agree that Maluku have dozen islands and hundred of wonderful beaches. The beach and island in Ambon, Ternate, Halmahera and the others surely can interest thousand tourists to visit and enjoy the natural charming. An island in Tobelo will totally teasing you. Its sea…
---